You may be surprised by the rural feel and amount of open space that still exists in Oakland County. Townships such as Highland, Milford and White Lake are home to sprawling horse farms and pastures, horse trails and training facilities. We'll be spending the next few hours driving down natural beauty roads as we visit 6 locations on the Highland Equestrian Conservancy (HEC) Barn Tour. The mission of HEC is to conserve and protect the natural resources while preserving the rural character of and equestrian heritage in and around Highland MI. We purchase our tickets at the Huron Valley Council For The Arts, we are given a map and a tour booklet, the barns are further apart then we expected, it's about 56 miles from first to last. We better get started.
Our directions lead us into a Milford subdivision, we must have taken a wrong turn, we continue on the street, wait a minute there it is, Berwyck Saddle Club. That's pretty cool, they built the sub around the saddle club. Riders have access to Berwyck Bridle Trails, Kensington Metro Park and Proud Lake State Recreation Area. The property has in indoor and an outdoor arena, a clubhouse and 43 stalls. As we approach the barn I stop to pet a couple of miniature horses, they're so cute. Inside the stable we walk the long corridor, friendly horses peek out of their stall looking for some attention, each of them has their name posted where I can read it and call them by name. A black horse is being groomed, he looks as though he'd rather be outside. We wander over to the indoor arena, nothing going on right now.
Next up is the Miracle Ranch and Rach Riding Academy; all styles of riding are taught here: Western, Trail, English, jumping, vaulting and Western Dressage, a demonstration is about to begin. Visitors gather in the arena, a girl dressed in a black and red costume appears on a black and white horse. Music plays as the horse circles the arena, she stands up on the horses back and does tricks, how does she stay up there? The audience applauds. Next up is a group of 4, the horses are wearing gold, the girls are in casual dress. This time the horses are doing the choreography. Music from the movie Frozen plays as horses trot, gallop and move to the rhythm of the music, moves are coordinated like synchronized swimming, it's fascinating to watch. When the routine is finished the horses exit the arena and so do we. Outdoors a rider is practicing  jumps, she looks like she's having fun. We walk through the stable, it's empty right now, we head out the back to find the animals eating lunch and enjoying the afternoon sun.
We drive through pretty countryside on our way to Karner Blue Stables in Highland Twp. We find an old hay barn, indoor and outdoor arenas, pastures and forested land, it's picturesque. A horse farm and training facility, there are horses all over the property. I'm excited to have a chance to get up close to these magnificent animals, they are extremely friendly, lowering their heads so I can pet them. Once you pet one the others come over to see what the human has brought; the absence of carrots, apples or sugar cubes send some of them back to eating grass while others are happy for the one on one  attention. There's an observation and tack room, a plate of warm chocolate chip cookies is offered to guests. This facility offers lessons, training and boarding.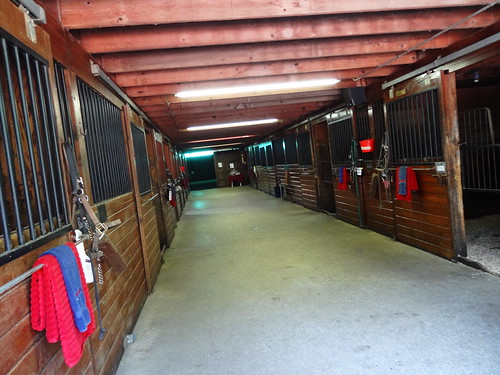 We travel from Highland to White Lake to Fenton visiting Tristan Manor, where 50 years ago the first symposium for the United States Dressage Federation was held bringing trainers from Europe to Michigan. Check out the rusty, old Ford tractor, I love the wheat on the emblem. In the distance I can see Sugden Lake; what beautiful countryside.
Equinox Farm, a certified in Technical Large Animal Emergency Rescue works with first responders and veterinarians to safely rescue livestock from mud, ice, trailer accidents and barn fires. Lots of ponies here, they all seem content on this lovely day. The landscape is serene; the rolling hills of Highland in the distance.
Carole Grant's facility on Pleasant Hill Dr. Situated on 40 rolling acres she has 19 stalls, a feed room, tack room, wash stalls, grooming areas, hot walker, large indoor ring, 2 outdoor rings, all with state-of-the-art footing. It's quite a place! The wood on the barn and stable has acquired that perfect gray, weathered look; bright red cannas and marigolds flank the sliding doors. Inside, the wood reminds me of knotty pine, it has a quaint feeling, it's amazingly tidy for a stable. A white horse has big black patches on its coat, chest and neck, the main is braided; she even poses for the camera. Standing on the concrete walk on the side of the stable we have a panoramic view of the land, it's so peaceful. In 2006 Highland Township was recognized as Michigan's 1st Horse-Friendly community.
We cross the border into Livingston County to the tiny hamlet of Parshallville. The name sounds straight out of Disney or Dr. Seuss doesn't it? It was actually named after founder Isaac Parshall. It's been a busy day and we could use a little pick-me-up, cider and donuts will do the trick. Historic Parshallville Cider Mill on North Ore Creek started life as a flour mill known as Success Flour oh, about 145 years ago. After that it was Tom Walker's Grist Mill grinding grain for animal feed; today it is a charming cider mill. This is one of the few remaining water-powered mills in Michigan. Heirloom apples, local honey, apple pies, cider, spiced donuts, caramel apples and cider slush are available for purchase. We take our slush and warm donuts outside and sit near the creek. We eat to the sound of falling water, every once in a while a breeze rustles the leaves, donut-scent fills the air. This is perfect.