Have you heard about downtown Detroit's new art gallery?  Housing an amazing collection of street art created by 27 artists from around the world, it's open 24 hours a day, free admission, there's no heat or air conditioning, but you can park your car in it. Yes, I'm talking about "The Z", Dan Gilbert's Z-shaped parking garage that zig zags from the corner of Broadway and E Grand River to the corner of Library and Gratiot. Bedrock teamed up with Library Street Collective, bringing street, mural and graffiti artists to design a most unusual parking structure. The massive, white structure is super cool, each level is color coded, at night the stairwell atrium is lit in a rainbow of colors, vertical LED lights illuminate each floor, it's definitely one-of-a-kind. Not to mention, it does add 1,300 much-needed parking spaces to downtown. 
Entering the garage on foot, we take the elevator to the roof, even the elevator buttons are color-coded, exiting the enclosure, the air has a chill not representative of September, the sky looks grouchy, a gust of wind rushes past us. Standing still for a moment we take in the panorama of the city, it's spectacular; skyscrapers, steeples, stacks, the light posts of Comerica Park in the distance, wow! On the Library street side we can see the Skillman branch of the library, other rooftops are littered with cooling units and little rooms that stick up; at 10 stories high we have a birds-eye-view. Graffiti covers both elevator banks, Slow Motion is the work of Wais, an artist from St Petersburg Russia; being out in the open, the array of colors, swooshes, and shapes create an interesting contrast to the surrounding buildings. The plan is to walk down to ground level crossing back and forth from side to side, seeing as much as we can. As we enter the structure, the concrete has been painted along with several long walls, we feel a need to stop and look at each piece, they really draw you in.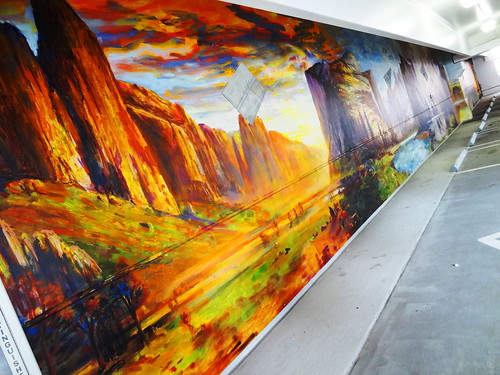 The 9th floor is the fuschia level; a tree that grows baseballs is depicted on one wall, on another a colorful bird is sizing up a worm that is part caterpillar, part car. The longest wall has all kinds of stuff going on; a car/bug is upside down in a human hand, arms protrude from a skull with a baseball bat in hand, a Tiger and a ball are in a ring, creating a story of sorts; this is the work of Ukraine artist Interesni Kazki. Endless Frontier reminds me of the kind of landscape paintings one would see in a museum, the work is beautiful, there are several scenes of uninhabited, far away places. The whole experience of walking through the structure is unique, we are intrigued by the art on the walls, scenes of Detroit are framed in the garage's rectangular windows. Pausing at one opening, we watch men at work restoring a building, Woodward Ave is in the distance, the David Stott building  rises high above other buildings.
The 8th floor is the purple level; on one wall, solid color triangular designs remind me of a kaleidoscope. A lengthy mural looks as if one scene has been painted over another; advertisements in blues, orange and yellows seem to be peeling away revealing a black and white scenario featuring lightning bolts, stars and a flag, putting me in the mind of superheros. From this level we get an up-close perspective of decorative terracotta designs and other architectural details of surrounding establishments, occasionally a skyscraper looks as if it is posing for the camera, completely encased by the frame of a window. On the 5th floor we are greeted by a familiar character, Dabs Myla's happy-faced paint can. It feels as if we've stumbled onto a secret cocktail party, the short wall is made up of a repeating pattern of flamingos, a winking sun and martini glasses complete with an olive. The rest of the party is on the other side, the streetscape of a tropical city, palm trees and mini skylines play host to swanky characters with a 1950's flair, love it!
Each and every level affords us a different perspective, the varied angles of the parking structure show us tight spaces closed in by tall buildings. Remember, this was built upon empty lots, it sprouted up between buildings of various ages and styles; fire escapes hang tight to an old, brown brick edifice, rusty bars run the length of the windows. Now loft space, remnants of their former use remain, old chains and hooks, a lone stained glass window, pencil thin ladders lead to the roof top, seedlings sprout from gutters. It's like we passed through some magical door giving us a whole new perspective on our surroundings. A huge colorful piece runs the length of the space, it is so pretty I can't help but stop and stare; it reminds me of a Monet, as if someone painted a lovely flower garden with a feather duster or powder puff, colors blend one into another it's so soft and soothing, like a sunset. Colors grow deeper as they travel down the wall until they look hot, like Summer, like fireworks. 
Some pieces are very geometric, giving a 3-D effect, others are pale and have a look of fluidity. Back to the Roots by Edgar Saner looks straight out of Mexico City.The 4th floor is the lime-light green level, there's a snazzy piece with a cool tunnel-like effect. The 3rd floor has a fun, cartoon-like mural called Ice Pop, by B from Athens Greece, makes me want to join the party! From here the Harvard Square building is in full view, we can take in the details such as medallions, wrought iron and symbols decorating the Beaux Arts beauty; Detroit has a fantastic variety of early 20th century architecture!
On the 2nd floor the artwork reminds me of bare trees in a forest with stunning, colorful backgrounds, it's one of my favorites. On ground level near the exit/entrance is one of the most complicated, intricately detailed pieces; people, animals, patterns, objects, one flowing right into another, it's outstanding. If you've ever seen a Highlight's magazine, you know they have those pictures where you have to find the hidden objects, this is kind of like that. Colored in pink,red, grey and black, by How and Nosm from Spain, this one is surreal. We walk outside and take the sidewalk to the entrance/exit in the other section of the Z, here Pose and Revok have painted a huge comic-book like piece titled  If You Think You Can Do A Thing. Done in primary colors, it's a combination of words like struggle, talent, love and rats along with faces and eyes of ones who themselves look like they are struggling. The more you look, the more you notice, it's a lot to take in, but a pleasure to do so. In the alley behind Vicente's we notice lights strung above, artists have done murals here too, we recognize the similarity of pieces in the GRCC. We wonder if this will be an outdoor eating space in the future, which reminds us, it's time for lunch!
Johnny Noodle King opened to much fanfare September 12, we happened to drive by that day to find not only a line out the door, but groups of folks sitting on the ground waiting for a table. Not expecting to have any better luck today, we drive by the tiny, red-painted brick, cafe on W Fort Street and were surprised to see nobody waiting outdoors. Kris parked the Jeep and I ran in to see how long the wait was, since it was near closing time, we were told it was about a 15 minute wait and we were the last people to be seated for the day, yay! On the way in, Kris takes pics of the exterior; a giant noodle bowl perpendicular to the building has a pair of chop sticks wrapped in neon noodles along with a red neon 'noodles' sign, as you may have guessed, this is a Ramen restaurant, the first in Detroit. While we wait we watch photos of Detroit landmarks appear on a flat screen TV on the back wall, each photo is embellished with a giant bowl of noodles in the foreground. The cafe used to be Johnny Ham King, I like that they kept the Johnny and the King part. 
The menu is simple, and for that I say thank you, it can be overwhelming to turn page after page reading descriptions of dishes. They serve Bowls, Sides and Drinks, what more do we need? Kris suggests trying several different things; we order the Red Curry Bowl, the Carrot Ginger Bowl, the house made pork gyoza and the onigiri. There's no soda pop here, we get the house saki and a Mandarin and Seville orange jigger. Basically, Ramen is Japanese comfort food, it is broth served with long, thin, springy wheat noodles and toppings. You have to have a great broth, which, they do, the toppings make the Ramen unique, they are. Everything is delicious! Toppings like egg, pork belly, cauliflower, pickled dakion, and nori add tremendous flavor and texture; portions are hearty, most likely you'll be taking some home. Owned and operated by the same folks who bring us Green Dot Stables, it's no surprise Johnny Noodle King is an instant success.