Detroit's true personality can be found in its neighborhoods. Today we are in Woodbridge, a historic neighborhood of mainly Victorian homes built from the late 1800's to the early 1900's. The district borders WSU, New Center and Midtown–putting it within walking distance to great restaurants, boutiques, shopping, and cultural institutions. Long ago Ty Cobb, David Stott, James Scripps and George Booth walked these streets calling Woodbridge home; more recently Meg White and Sixto Rodriguez resided here. The grandest homes were originally built on Trumbull, as the campus of Wayne State grew, many homes were lost. The neighborhood was placed on the National Register of Historic Places in 1980, that's when restoration of these gorgeous homes really got a foothold.
We park on Merrick and begin our walk south on Commonwealth, today the street is picturesque; trees are still hanging on to their yellow, red and orange leaves, large 3-story homes with tiny front yards sit back from the street. It's Halloween, residents decorate with spooky spider webs, pumpkins line the front steps, pots of mums and even a few annuals enjoy the mild autumn day. Bicycle racks dot front lawns, each a different shape, painted brightly in red, orange, blue and lime. Art is everywhere; sculptures sprout from the ground, paintings hang on exterior building walls making the street an outdoor gallery. A fenced in yard contains huge bicycle sculptures, a brightly colored painting spells out Laredo in yellow letters, rose bushes still bloom. The district embraces the creative, imaginative and artistic qualities of its residents.
Dual stairways lead to front doors of duplexes, many are graced with leaded glass windows. Homes are well maintained; colorful trim and smooth columns accent fine brickwork. Covered porches shield residents from heat and rain, balustrades create second story balconies, windows of all shapes and sizes bring sunlight indoors. People are out raking leaves, walking their dogs, they stop what they're doing as we approach, taking the time to say hello. Apartments are only 3 stories high, the architecture is understated with lovely details such as dentil moldings, heavy wooden doors and window pediments. Homes on Avery are almost all single-family, there are some real beauties! Many have steep hipped roofs, recessed porches, bay windows, dormers and round corner towers with pinnacles. On one of the blocks, houses are clapboard sided in a variety of bold colors; fish scale siding, conical roofs and decorative gables  make each one unique.
In one front yard a Little Free Library has been planted; using Andrew Carnegie's support of 2,509 free public libraries built in the US around the turn of the 19th to 20th century as inspiration, Little Free Library has a goal to build 2,510 libraries, and then keep right on going. Detroit Little Libraries has a goal of 313 libraries in the city; the organization turned 1 in September and has already planted 100 little library structures, making it the fastest growing Little Library city in the country. The little house-like structure looks right at home here, it even matches the big house it sits in front of. We continue our walk; leaves crunch under our feet, cars line the narrow streets, people come and go from their homes. Residents are diverse; students, professors, young families, servers and long-time residents all live side by side in this charming, appealing, engaging neighborhood.
We take Merrick to Trumbull and walk a little more, 4759 is the address of The Lorax house, you know, from Dr Seuss. Built in 1900, current owner Alex Pereira has renovated the building into 5 units and a commercial art gallery. While the interior retains its original historic beauty, the exterior is whimsical with a wood-carved Lorax on the front lawn, a quote from the movie is painted on the retaining wall: "Unless someone like you cares a whole awful lot, nothing is going to get better. It's not." Pereira recently finished the "UP" house, based on the animated film of the same name at 4722 Avery, you'll know it immediately by its cheerful paint job of light blue, yellow, fluorescent green and lilac; he's currently working on the (Alice in) Wonderland House at 3947 Commonwealth.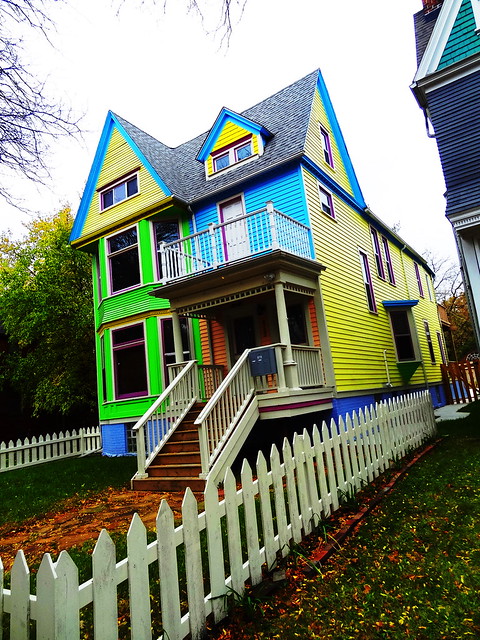 Back the other way more grand homes line the street, art covers walls, garages and alleyways; in one painting Detroit is an underwater city, scuba divers swim among the skyscrapers, the rays of the sun permeate the water's surface…. awesome. At the corner of Trumbull and Merrick is the Woodbridge Community Garden; raised garden beds, picnic tables, art and sculpture have turned this into a neighborhood gathering space. Woodbridge Pub owner Jim Geary is responsible for the transformation of the garden from 3 city lots filled with overgrown weeds and trash to what we see today.
Speaking of Woodbridge Pub, it's time for lunch! The building, originally a general store built in 1926 had sat empty for a good 20 years when Geary bought it; time, money, patience and lots of salvaged wood turned it into the quaint space it is today. We've been coming here since it opened back in 2008. Sitting at the bar we scan the menu; one of our favorites, the Veggie Locker, is back, we order that and a side salad, kick back and relax. It starts to drizzle, Wayne State football has a home game today, folks escape the rain and fill the place up. Our meal arrives; we have a side salad with sherry vinaigrette and southwest dressings, we like them both. The sandwich is a combo of avocado, tomato, red onion, cream cheese, jalapeno, mustard and mayo on grilled Detroit 9-grain bread, accompanied by corn chips and a pickle– it's delicious. 
This is Detroit. Urban neighborhoods, gorgeous architecture, art, community gardens. Corner pubs, Little libraries, history. And a bright, promising future.