There was once a blissful time in the United States when Americans believed anything was possible. After the Great Depression and two World Wars the country was recovering. The Big Three were back in the business of building cars. The public was in need of personal modes of transportation that would take them to newly developed suburban neighborhoods, shopping malls and trips across the country. Manufacturers grew huge styling departments, hiring artists to capture this new futuristic spirit. It was the "Golden Age" when cars were a thing of beauty, they stirred our imagination, put us in the mind of outer space, science fiction didn't seem so far-fetched. These talented, mostly unknown, artists took eye appeal to a whole new level that shaped not only the auto industry but every facet of American design.
We are at Lawrence Tech University in Southfield to view a historic collection of sketches assembled by Robert Edwards called 'American Dreaming' Detroit's Golden Age of Automotive Design. The exhibition takes us inside the styling studios of the American auto manufacturers from 1946 to 1973. The walls of a small banquet room are covered with framed sketches; created in pencil, pastels, ink and airbrush, their mere existence is incredible. Back then due to fierce competition between companies all drawings were ordered to be destroyed, preventing them from ending up in someone else's hands. These drawings were smuggled out by the wildcat artists themselves under the threat of termination if they were ever caught. Today the room is crowded with appreciative viewers enjoying the works of Rodell Smith, Don Hood, Bill Brownlie, Allen Young, Del Coates, Carl Renner, George Krispinsky, John 'Dick" Samsen and many others who names you may not recognize, but their designs you would. 
We move around the room slowly, sidestepping others, dodging cameras, in effort to get a closer look. The designers were predicting the future and showing us how we would get there. The early sketches are more conservative in nature, traveling forward on the timeline bodies become exaggerated, elongated, surrounding landscapes are futuristic with rocket ships blasting off in the background; cars look like they could join them in space. There are renderings of Corvettes, Barracudas, Toronados and Gremlins, Studebaker, Packard, AMC, DeSoto and so many more. There are studies of interiors, wheel covers, hood scoops and badges. Model cars are displayed in plexiglass cubes, placards give us insight to the artists and their careers. The evolution of the automobile and the country is laid out in front of us, what an incredible ride it is!
We take a brief walk around campus before going back to the Jeep. LTU was founded as a private university in 1932, classes were held in the former Model T assembly plant in Highland Park before moving to Southfield in 1955. Theory and Practice have always been the schools motto, offering degrees in Engineering, Architecture and Design. You may recognize the names of these former students: A. Alfred Taubman, Steven A Ballmer, Donald W Date, John Z DeLorean. Buildings are a mix of old and new, all modern in design; my favorite is the architecture and design building with its glazed brick, folded plate roof and courtyard. Landscaped gardens and sculpture dot the campus.
Sticking with the Modern theme of the day, we decide to drive through some of Southfield's noteworthy neighborhoods. We start in Northland Gardens off 8 Mile Rd, ranch models sprawl with breezeways, car ports and forecourts. Most are brick accented with stone, lots of windows, skylights and large entryways. One of the most unusual sits on Westland Ave, built in 1961 it is long and low, the stepped roof lend an Asian feel to it. Leaded glass windows contain blue circular patterns, the glazed brick cylinder in front is one of a kind.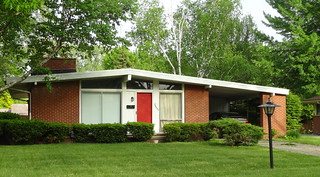 Further north we pop into Washington Heights and Cranbrook subdivisions with multiple California Modern ranch style homes. Low sloping roofs, wide eaves, large fireplaces and tall windows are prevalent. Many of the homeowners put forth great effort keeping the homes architecturally correct from the colors of the time period right down to the lighting. The Ravines neighborhood is nestled into a wooded area along the Rouge River; palatial homes are built on sweeping, rolling lots above the waterway. Several homes are completed in the same style as the "Brady Bunch" house. Most of the homes in these subdivisions were built in the 1950's and 60's when Southfield was booming.
We're having dinner at Sweet Lorraine's Cafe & Bar on Greenfield Rd, Chef-Proprietor Lorraine Platman has been in the restaurant business since 1982. Know for her "world beat cuisine" she has a reputation for turning out tasty dishes made with interesting combinations through the decades. The dining room is a lively space with colorful murals, attractive lighting, glossy wood tables and booths. We are greeted at our table immediately with menus and glasses of ice water. There's a lot to read making a decision difficult. The flavors cover the globe, there's something for everyone from meat-eater to vegan. Kris and I each pick a dish to share.
While we wait for our dinner, our server brings us each a piece of focaccia bread and a shallow bowl of red sauce for dipping, it's outstanding. I could have added a glass of red wine to that, had a second portion and been completely satisfied. I'm glad I didn't, as our entrée's were delicious. The pear brie quesadilla is stuffed with thin-sliced pear, melted brie, drizzled with a cilantro cream sauce and served with a side of red pepper jelly. Basic ingredients when combined give a variety of flavors and textures. The Veggie Vietnamese "bahn mi" is a crusty roll filled with organic tofu steak, portobello, spicy slaw, sriracha, cucumbers and cilantro, so flavorful, so good! At the end of the day our appetites for art, architecture and delectable food have all been satisfied.